Sealing Wax Beads - 2oz
Our Sealing Wax Beads are a bulk form of our Glue Gun & Wick sealing wax.
Flexible, mailable, and available in our most popular colors.

To use sealing wax beads, quickly melt three to four beads in a melting spoon over a flame, and pour the wax right onto your project.
Many of winery & brewery clients choose this wax to melt in bulk, then dip their corked bottles into the pot directly.

Each 2oz package has an estimated production of 50-60 seals when used with a 3/4" sealing coin. 
Our LetterSeals.com line of bead wax is manufactured completely in the USA,
is lead free, and is FDA certified for direct contact with food,
making it the ideal wax for bottle tops and food package labeling.


(FDA Status: This product is in compliance with Federal Regulations 21CFR- 172.886 and 21CFR-178.3710.)
Customer Reviews
05/25/2020
Nia C.
United States
I recommend this product
The best!
I purchased silver selaing wax beads and the wax melter with spoon, and am completely in love with both! The wax melts very quickly in the melter, with very little mess. The wax itself is not super thick, like other wax I've tried, but still leaves a nice imprint. I will be ordering more wax beads very soon!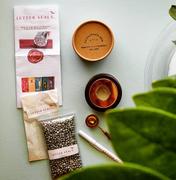 Amazing!
LetterSeals had exactly what I was looking for and it was so easy to find! Their website is user friendly and is full of fun things to explore. I was looking for just melting wax beads without all the extra stuff (melting spoon and candles) and they had it at a cheaper price than anywhere else! they shipped the package quickly after ordered and I had it by the same week as ordering! Loved my experience and can't wait to shop with them again!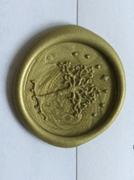 07/18/2020
Michelle V.
United States
Nice!!!
First time wax seal user, so far so good.
07/13/2020
Mia D.
United States
Love it!!
The order came so quickly and the packaging was an amazing experience. The wax itself can come out a bit thin (though it melts so quickly!!), but leaving it to cool a tad after melting it helps and turns out quite well (I am still learning). It leaves a nice imprint though the center comes out a bit transparent (it may be me still learning as it was my first time). I had to put more beads than necessary with my stamp as well, but I really do love it!