Wax Seal Non-Stick
When creating wax seals, you should never have to apply any force
to remove the seal face from the cooled/cooling wax.
Doing so could bend or break your stamp.
We have developed our tin of non-stick to allow a sealing coin to quickly and easily release from the cooling wax.

Dab you seals face a few times onto the interior pad to apply our Seal Non-Stick,
then stamp your hot wax.
A little goes a long way - if you get too much on the stamp face,
simply wipe the face across the interior pad to remove.

We use this product in our own studio, and wouldn't work without it!

One tin is plenty for 100+ seal creations.
Tin is 2" in diameter.

Non toxic


Customer Reviews
I bought this for doing
I bought this for doing wax seals on my wedding invites. It was 100 wax seals and this worked great! It kept me from having to pull too hard to release my seal from the wax - it came off pretty easily. In combo, I also used an ice pack to keep my seal from getting too warm from the wax.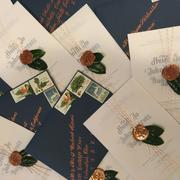 07/02/2020
Carolyn B.
United States
Letter Seals - What Fun!
Karen was extremely helpful and patient in making sure I ordered exactly what I wanted. The letter seal is beautiful and feels good in my hand. I'm still mastering the techniques of using sealing wax, but I'm having a great time practicing. Now is the perfect time to revive the art of writing letters and cards. Letter Seals is a company that cares about its products and its customers.
Excellent customer service
I was very impressed with the communication and the quick delivery for an International parcel. High quality products with great follow up. I'll be ordering again. Thank you
Still in the works
We are currently in the process of straightening out a misunderstanding, I think. I cannot comment yet, other than to say that they have been more than willing to help me out. My previous experience with this company was a 5/5, and that was 10 years ago (?), so they are a reputable company. Would do business with them again.