Jewel Tone Glue Gun Sealing Wax | For Mini Glue Guns
Created in the traditional recipe format, with a flexible modern twist - each color is vibrant, mailable, strong and flexible.

Made with a beeswax base, and strengthened with traditional resins, this wax will hold up to the rigors of handling and posting.

We are personally thrilled with the bright jewel tones of each color,
as well as the impressions this wax takes.

☞ Choose from 26 gorgeous colors from the menu options.
☞ Pricing is per stick.

Each stick measures 0.31" x 3.93" | 8mm x 100mm
Fits a MINI CRAFT GLUE GUN, not the larger standard glue gun.

≈ 4-6 seals when created with 0.75" | 1.9cm stamp.


☛ Please note: changing wax colors with a glue gun takes a bit of wax to complete.
The wax will melt into a pooling chamber within the gun, and new colors will mix with the old,
until enough new wax can be run through to clear the color.

➢ This can create some fun combinations if you plan out your colors!

➢ If it is important for colors to not mix, you may wish to consider:
- Dedicating one glue gun to one color.
- Cutting pieces of lesser used colors to melt in our melting spoon.
- Using the glue gun wax as a wickless sealing wax and melting near a flame.
Video Demonstration
Customer Reviews
03/30/2018
Heather C.
United States
AMAZING Seal and wax is perfect
I am a florist on the East Coast that believes in the little touches mean a lot. I use the wax seal (with my custom logo) to close the message card instead of an envelope. I bought the .75 in face and it is perfect in scale. The wax is so easy to use with a mini glue gun that my daughter wants me to wait and let her do the seals for all the cards. It gives it a nicer touch than a sticker. Thank you for such great customer service and one more leg of cohesive branding for my business. Awesome Blossoms CLT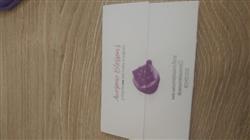 04/15/2016
Tori B.
United States
02/14/2020
Cortney S.
United States
Beautiful, high quality, and easy to use!
This is my second purchase from this company (first was wax and a stamp). The color of the wax is beautiful and matches the color advertised online. The wax is also high quality and easy to use. I also enjoyed the candy included in the package-- such a sweet touch :) I will definitely continue to purchase my wax/stamps from Letter Seals!!
11/08/2019
Anonymous
United States
Wonderful finishing touch!
The seals were easy to apply and gave the perfect finishing touch to our welcome bands around our rehearsal dinner menus. We'll use them again!