Winter & Christmas Design Wax Seal Stamps
Our Winter & Holiday seals are just the finishing touch needed for your holiday cards,
party invitations, favor decoration, hostess gifts, and more!
Please Note - Banner Designs must be ordered in a minimum face size of 1" diameter.
We create each seal here in our own studio, made especially from your favorite design and stamp size & style specifications.
NOTES ON ORDERING
1. Choose your Design from the menu
2. Select the STAMP STYLE of your liking
3. If applicable, you will have a FACE SIZE to select
To order one of our wax seal stamps, you have your choice of six stamp styles, pictured above.
Our CLASSIC stamps are available as your choice of solid brass or aluminum, with a  0.75" / 19mm diameter face.
Our DELUXE stamps are available as 

your choice of solid 

brass or aluminum,

 with a 1" / 25mm diameter face.
All of our other stamps are available with your choice of face size:

 


0.75", 1.1", 2" round or 1" square.
[ 19mm, 28mm, 50mm, or 25mm square ]
Stem | $16




Solid milled aluminum with minimalist handle.

Classic Aluminum | $20
Classic Brass | $26

Your choice of solid aluminum or brass.




Handle and stamp face are a solid, seamless piece, polished to a high finish.





Deluxe Aluminum | $29
Deluxe Brass | $33


Your choice of solid aluminum or brass.





Handle and stamp face are a solid, seamless piece, polished to a high finish.


 

Wooden Handle | $30


A polished aluminum stamp face with our iconic, handmade finished wood handle securely attached.

Interchangeable Handle + Interchangeable Face | $34


Our unique interchangeable handle is a solid aluminum piece.

These stamp faces are also polished aluminum, with threaded stems to fit our handle.

Interchangeable Sealing Coin Only (no handle) | $24


These stamp faces are polished aluminum, with threaded stems to fit our handle.
Customer Reviews
MD
11/06/2019
Mark D.
United States
I recommend this product
It Couldn't be Better: A superb Wax Seal
I have recently completed a project in which I made 40 seals in a quick amount of time. By following the hints included in the superbly and creativley packaged Christmas Candle Seal I was able to make clean, precise imprints which have already delighted their recipients. Will I buy again? Yes! Will I recommend Letterseals.com? Yes! I believe Ihaev finally found a place to order wax seals that is run by people who really care about not only their products but their customers as well.
12/05/2017
Cindy P.
United States
Perfect!
This is my first wax stamp and I couldn't be happier! The 1 inch stamp is the perfect touch for my hand made cards. I didn't try sending it through the mail, so I can't comment on that, but the ones that I hand delivered were well received. The starter kit I ordered had everything I needed to seal my cards. I will be ordering again!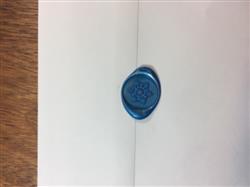 02/28/2020
Anonymous
United States
Excellent products!
Even though what I purchased was a holiday item to use later on, I couldn't wait to use it, so I tried it out and love the way it turned out!! This company is top notch, and their customer service is amazing! They are my go to company for my own small business! Very happy with them!
07/13/2019
Donald W.
United States
Beautiful!
Great quality products. Love sealing our envelopes with these designs and colors. Very satisfied customer!
04/29/2019
Anonymous
United States
Great Customer Service
I ordered a stamp from Letterseals.com and the package got lost in the mail. I contacted them and they immediately sent out another one at no cost. They kept me updated on the order and shipment as well. Great customer service!