Jewel Sealing Wax Beads 1oz
Created in the traditional recipe format, with a flexible modern twist - each color is vibrant, mailable, strong, and flexible.

Made with a beeswax base, and strengthened with traditional resins, this wax will hold up to the rigors of handling and posting.

☞ Choose from 37 gorgeous colors from the menu options.
☞ Pricing is per ounce of a single color.

Two to three beads are enough wax for a 3/4" stamp impression.
Our 1oz Package contains roughly 130 beads, creating approximately 50 seals.
These colors come as a larger heart-shaped bead / 45-50 beads per ounce.
- Lilac, Cornflower, Nutmeg, and Cardamom
Melt in our melting spoon over a flame to quickly create a seal - mix colors to create new shades or swirling effects.
Use with our sealing wax melter for easy desk top use. 
Customer Reviews
09/16/2020
Anonymous
United States
01/28/2020
Peter K.
United States
12/12/2019
Aubrey B.
United States
I recommend this product
AMAZING
First of all, I love this wax, it's super pretty and nice to use. But second of all the customer service is wonderful. I didnt have a problem with most of my order, but the single item I did receive wrong was fixed with only the effort of a single email on my part and super fast! Definitely will shop here for all my wax going forward.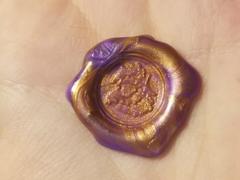 Orange Sealing Wax Beads
The color was exactly what I wanted. I did notice, however, if I melted the wax for too long, it became rather thin and slightly transparent when stamped. So I adjusted the melt time to be shorter to try to keep the wax fluid, but thick. I found that to deliver the best opaque color of orange seal.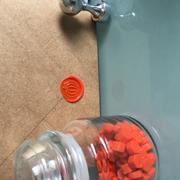 08/05/2020
Denise C.
United States
Best wax
I work with medieval scrolls and it is hard to find a wax that will both leave a clear seal And be durable! This wax is all of that! And to prove it they even place a wax seal On the outside of the package- it survives the mail!!! I love the vibrant colors and the hardiness of this wax also very easy to use- both glue gun and beads have been a breeze!